Who We Are
Dawa Sherpa (President)
Born in the remote village of Mera, Nepal, Dawa grew up in the austere conditions of a Himalayan village. With no shoes until he was nine years old, and "commuting" 25 miles by foot to boarding school every week in his teens, he appreciates the support that the Maya Sherpa Project can bring to his home village. Now residing in Fort Collins, Colorado, the father of Maya, and an American citizen, Dawa is part owner of the popular Mt. Everest Café there. He is also a principal in the Peak to Peak Trekking company, which specializes in small-group treks in the Himalayas. His vision for the MSP is to help bring basic education and medical care to his fellow Sherpas, in order that they can experience a life of greater well-being, while still maintaining the richness of their culture.
Sharon Lowe (Vice President)
Sharon is a registered nurse and mother of Maya. She currently practices in the Special Care Nursery in Boulder, Colorado, caring for women and children, specializing in the care of the sick neonate. Sharon's 25 years of experience in nursing has included oncology, orthopedic, neurology and hospice care In addition to this work in the US, Sharon has been a part of three international medical teams, including two in Nepal and one in Duchanbe,Tajikistan. Sharon is passionate about improving people's lives through education and healthcare.
Pattie Moon (Secretary and Treasurer)
Pattie is not related to the Sherpas directly, but does feel like they are "family" in the fullest sense of the word. During her first trip to Nepal, she experienced the extraordinary warmth, wisdom and delightfulness of these people who live in a part of the world that has always called to her. The opportunity soon arose for Pattie to help create, and now manage, the Maya Sherpa Project. It is her most joyous duty to use her (now-retired) professional business skills as a strategic planner, to find solutions to the needs of the Sherpas in a small, remote village half a world away. And it is her delight to be able to return there and continue her own "education" from these remarkable friends!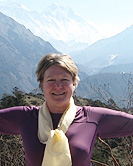 Nancy Kramer (Board Member)
Nancy lives Steamboat Springs , Colorado. She is a board member of the MSP, a Registered Nurse and the Northerst Colorado Cultural Hertiage Program Coordinator. Her career includes many successful businesses, as well as nursing and healthcare administration.
Nancy has worked both professionally, and as a volunteer to assist local, state and national groups to find their way to being success nonprofit organizations. She emphasizes organizational and board development and strategic planning in her consulting and facilitation. The Maya Sherpa Project, Emerald City Opera, Advocates for Building Peaceful Communities, The Friends of the Chief Board of Directors, numerous community arts organizations (1998-20011) as a consultant through Colorado Creative Industries PEER Assistant program, The 10th Mountain Division Foundation, Inc. Board of Directors, Historic Routt County and more.
Back country skiing, hiking, gourmet cooking and traveling are other activities she enjoys when time allows. Nancy's greatest outdoor adventures have been to summit Oregon's Mt. Hood twice and Washington's Mt. Rainier once in honor of her father who served in the 10th Mountain Infantry in WWII.
Pemba Sherpa (MSP Nepal Project Manager)
I was born in Keyngma, a small community near Lukla, the entry village for all treks and expeditions to Mt. Everest. As such, my family has been part of the international trekking and expedition culture of Nepal for many years. I currently serve as a guide in the Himalayas. As a child I attended the Hillary School near my home village and now study at the university in Kathmandu when not trekking. "I am very happy to be a part of Maya Sherpa Project, because I am my self Sherpa and very happy to work as a manager of this project to help the Sherpa people who are in remote area like Mera."
Alex Moon (Board member)
Alex's first experience with the Maya Sherpa Project was during a trekking trip in Nepal. After seeing the impact of the organization's projects, experiencing the wonderful people and taking in the culture, he was hooked. He brings to the board his yearning for the outdoors and a desire to use technology and sustainability hand in hand to leave a positive impact on the world.
Contact Information
Email: info@mayasherpaproject.org