One of the longest running requests we've had from the monks at Mera's monastery has been to figure out a way to power computers to provide an expanded learning environment for the monastery's residents. The main issue has always been generating consistent power. Laptops use more power than the home's lightbulbs and that power needs to be even enough to avoid damaging the equipment.
The village of Mera is a four hour hike from the nearest town of Phaplu and to that end, does not have a connected power source. The village itself derives its power from a small hydro-electric system which has typically been enough to run light bulbs in most of the village's houses as well as the monastery. After last year's earthquake in April, this hydro-electric system was further burdened due to a suspected shift in the underground water source from which is gets its water. This has led to situations where their light bulbs will go out for minutes at a time or during their drier months (around the spring) where they may not have any light for entire evenings.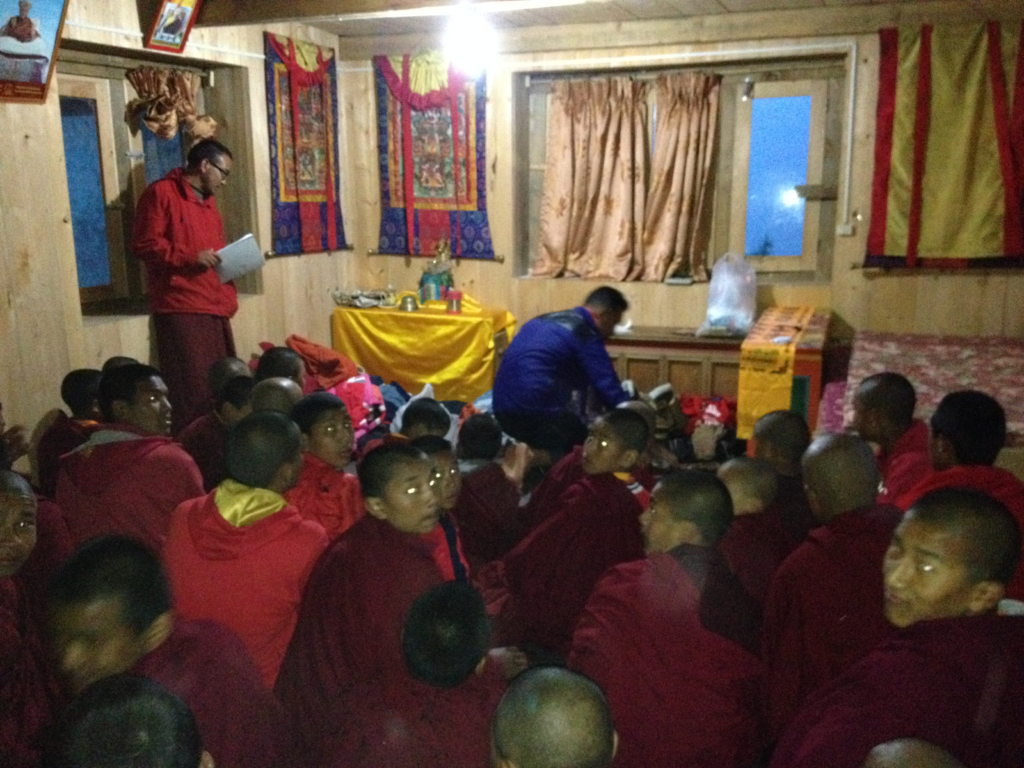 This year, the Maya Sherpa Project resolved to make the Computer Power Project a reality. The Computer aspect of the project was quite easy. The German organization Mountain Spirit had donated the laptops, pre-installed with a range of education software. We also left our own touch by including offline (no internet access required) versions of Wikipedia in Nepali, English and a simplified version of English called Basic English which uses a controlled amount of words to make learning English easier for non-native English speakers.
The Power aspect of the project was more involved. Through a mutual connection, Pattie Moon was put in touch with an incredibly intelligent and avid electrical engineer by the name of Nathan Proper. Nathan also happened to have grown up in the Colorado mountains, is an enthusiast of everything outdoors, and has had a lifelong dream to visit Nepal.
He eagerly accepted the offer to design and build a system which would generate the necessary consistent power flow with an added challenge from Pattie… it should include a bicycle. Yup.
Earlier in the year while sitting around a table with the monastery's Khempo, they had both joked about how, if only, they could harness the power of the young monks running around the place by putting them in hamster wheels. This led to a lightbulb going on (no power required) and the idea of attempting to use a bicycle to provide the electricity was born.
Fast forward many months, many miles flown, one heck of a long jeep ride, and a four hour hike, Nathan and I arrived at Mera's monastery and, with much eager help from its monks, assembled the project Nathan had been working on for the past several months.


The result? A bank of four car batteries to provide the consistent power, recharged by a roof mounted wind turbine connected through a custom-built controller. And, as promised, a bicycle…. connected to a small generator which would also help to power the battery box. All of which was brought in checked baggage from the United States, save for the batteries and bike which were purchased in Kathmandu. After an uneasy day or two, not knowing if the turbine would work properly or had perhaps, been damaged in transit, we got a windy day and confirmed that the batteries were charging back to 100%.
The laptops worked beautifully and the monks loved the software installed – especially, to my surprise, the touch-typing software. A solid hour was spent with all three computers echoing F,J,F,J,FF,JJ,F,JJJ,FF,J… over and over as they sped through a lesson teaching them their home keys. This had the extra benefit of causing the rest of the room to double over in laughter.
There is some room for improvement with the bike aspect (messing with gearing, etc.) as it turns out it's not terribly efficient at generating power. That being said, it was by far the biggest hit. Almost every time we came into the computer room, someone was on the bike pedaling like crazy, trying to keep their robes out of the way and laughing the whole time. Perhaps next time we'll just bring a few bikes for them to ride around for fun!
Speaking of next time, Pattie will be headed out to visit this Spring, checking in on the projects and possibly accompanied by another electrical engineer to fine tune and add to the power project. Our next steps will be to review the effectiveness and efficiency of the project and consider how we might be able to take what we've learned so far and utilize it in other remote Himalayan communities. Surely there are many others who could benefit from having computers and a reliable means to power them.