"When you educate a girl, you educate a family."
– Tashi Sherpa

A small contribution can go a long way…
and keeps growing
Help Support Education
in Mera, Solu Kumbu, Nepal
Dear Friends and Family,
We are happy to announce that in 2012, the Maya Sherpa Project has had an active and supportive focus on education in the small Himalayan village of Mera, Nepal.
Our first project was to hire and support a teacher for the village monastery to be an adjunct to the traditional Sherpa religious studies of young men from many neighboring Sherpa villages. Their teacher has been giving instruction in Nepali, Math, Science and English.
We have also partnered with a German NGO, Mountain Spirit, to support the education of two village women as healthcare workers. Upon completion of their education, they have pledged 5 years of paid service in their village health post.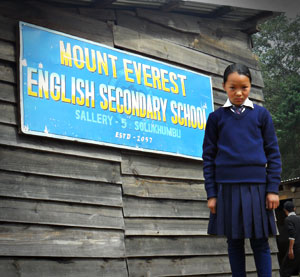 Our newest project – and one that we are very enthusiastic about! – is that of educating young girls from the village. These are capable individuals, yet they have no further chance of education in any form, due to economic hardship as well as availability of education resources.
Our first student is 10-year old Mingma Doma, for whom we have provided a full scholarship at a boarding school in Salleri, a neighboring village about 5 hours away. Mingma Doma is thriving in school and will have the chance to make choices in her life and contribute to her family and village. Without this opportunity, these girls are destined to lives of hardship and often abuse. With education, they not only have a different future for themselves, but also provide a lasting effect on their siblings, the village as a whole and eventually children of their own.
Our goal is to give other girls the opportunity to share in the education that has been given to Mingma Doma. With your support we can! Please make a donation to the Maya Sherpa Project, your tax-deductible donation will help bring educational opportunities to a young girl and improve the quality of life for everyone in her village.
Sincerely,
The Maya Sherpa Project
P.O. Box 880144
Steamboat Springs, CO 80488